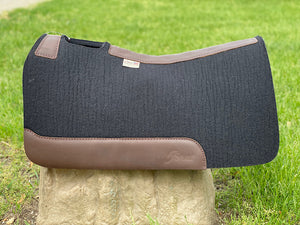 5 Star Saddle Pad Black 3/4 inch Dark Brown wear leathers 30x28
Free shipping in the USA on orders over $99!
Orders less than $99 pay just $9.95.
Other than Canada, International orders, please email BrreLhorse@aol.com for a shipping quote.
Shipping
calculated at checkout.
Due to vacation - I understand all orders placed on Tuesday, November 28th, 2023 thru Wednesday, December 6th, 2023 will ship on Thursday, December 7th, 2023. If this time frame does not work for you, we can refund your order. Send an email to BrreLhorse@aol.com or contact us via the Chat function.
---
---
5 Star wool saddle pad in a 3/4 inch thickness with Dark Brown wear leathers
All the same great benefits as our other 5 Star saddle pads but this pad is 3/4 inch thick (1/8 inch thinner than our other 5 Stars which are 7/8 inch).
Thickness: 3/4 inch with dark brown wear leathers
Size: 30 inches width x 28 inches long, square skirt
Color: Black
5 Star 100% Wool Contoured Saddle Pad is the BEST PROTECTION FOR YOUR HORSE'S BACK
The world's finest, all natural 100% wool contoured saddle pad, specially designed to fit the shape of your horse or mule's back. Unique, two-piece construction eliminates spinal pressure and improves saddle fit---no over-cinching.
5-Star's Contoured Pad is the ORIGINAL western contour saddle pad with a true French Curve backline and withers slope. Special attention is given to wither height, backline variance and hip placement which results in a GREAT FITTING SADDLE PAD that CONFORMS to the shape of your horse or mule. This conscious effort in design has produced a pad that fits most breeds of horses and mules without "break-in" fitting.
Top quality, pressed, high density 100% WOOL FELT is the base pad component, with 5-6 oz. wear leathers on the sides and top line. This wool felt is manufactured to strict specifications, using the highest quality virgin wool (90%), blended with recombed wool (10%) which allows for the highest degree of protection and economic benefit.
Features:
Contoured, conformed fit
20% less cinching needed
All natural, 100% wool felt with 40% MORE virgin wool than ANY other 100% wool pad
3x more compression protection than synthetic neoprene pads
Even weight distribution and impact absorption
4x greater wicking ability
Eliminates heat build-up
2000+ hours of maximum riding protection
Soft and durable, easy clean up
90% virgin wool
---
We Also Recommend