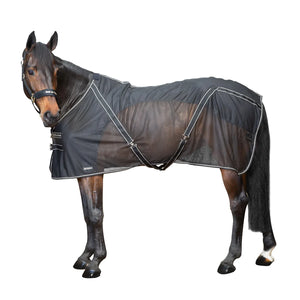 Back On Track Sienna Horse Mesh Cooler Sheet, 78 inch
Free shipping in the USA on orders over $99!
Orders less than $99 pay just $9.95.
Other than Canada, International orders, please email BrreLhorse@aol.com for a shipping quote.
---
---
The Sienna Mesh Sheet is an airy sheet designed and formed to minimize pressure over large muscle groups. The lower part consists of mesh fabric, causing the air to easily circulate and keep the horse cool.
Easy and airy, perfect for hot days!
The blanket is quick-drying and moisture absorbing to maintain high air circulation. Soft lining over the withers to prevent chafing. Fastens with hook and loop closures and double buckles at the front. Perfect as a travel blanket or sweat blanket for your horse.
Note: This cooler is not a fly sheet and should not be used for turnout or any unsupervised activity.
Features:
Size 78 inch
Welltex® technology
mesh for maximum airflow
Quick drying and moisture absorbing
Anatomical fit
Tail strap with D-rings
Material: 100% polyester
Lining: 100% polyester
Band 100% polyester
---
We Also Recommend