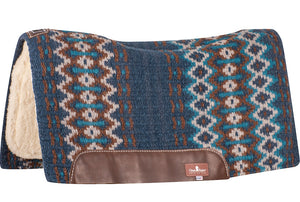 Classic Equine SensorFlex Wool Contoured Top Saddle Pad 34x38
Free shipping in the USA on orders over $99!
Orders less than $99 pay just $9.95.
Other than Canada, International orders, please email BrreLhorse@aol.com for a shipping quote.
---
---
This good looking Classic Equine SensorFlex wool top contoured saddle pad has great eye appeal with a color combination of navy and chestnut.
The contoured shape is designed to follow the curve of your horse's back and allows for freedom of movement in the shoulders and hips.
The 100% New Zealand wool blanket top can be folded back for shim placement if necessary and lays clean and flat against the pad. The 1/2 inch pressed felt center absorbs shock for a solid, secure ride. 100% Merino fleece bottom wicks moisture and provides maximum comfort to the horse's back.
Size: 34x38 Navy/Chestnut
SCWFP3422NVCST
---
We Also Recommend