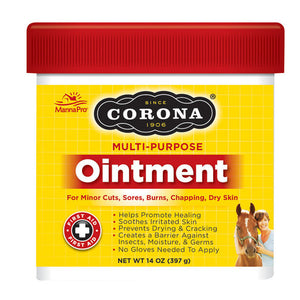 Corona Multi Purpose First Aid Ointment 14 oz, 216
Free shipping in the USA on orders over $99!
Orders less than $99 pay just $9.95.
Other than Canada, International orders, please email BrreLhorse@aol.com for a shipping quote.
---
---
For Minor Cuts, Sores, Burns, Chapping, Dry Skin
Helps Promote Healing
Prevents Drying & Cracking
Creates a Barrier Against Insects, Moisture, & Dirt
Nitrofurazone Free
The thick lanolin-based formula helps soothe irritated skin and prevents drying and cracking. Creates an excellent barrier against insects, moisture, and dirt. The thick ointment stays in place and provides continuous wound protection. Safe to apply, Corona can be safely applied with no gloves.
Uses: For use on horses, cattle, dogs, and cats. For body, legs, head and face. Temporarily protects and helps promote healing of minor cuts, lacerations, scrapes, burns, and sores. Keeps affected areas soft and supple. Soothes dry skin, chapping, sunburns, and skin irritations.
Directions: Clean the affected area thoroughly and apply a thick coat at least once daily. Repeat as needed.
Active Ingredient: Lanolin USP 30%. Also contains: Beeswax (Yellow Wax), Disodium EDTA, DMDM Hydantoin+IPBC, Fragrance, Lanolin Alcohol, Methyl Salicylate, Mineral Oil, Petrolatum, Purified Water, Sodium Borate, Sorbitan Sesquioleate.
---
We Also Recommend