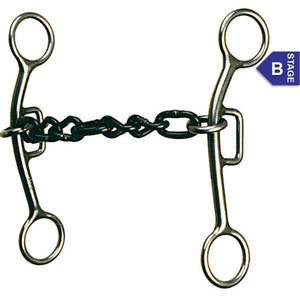 Reinsman Sharon Camarillo Chain Touch Bit 718
Free shipping in the USA on orders over $99!
Orders less than $99 pay just $9.95.
Other than Canada, International orders, please email BrreLhorse@aol.com for a shipping quote.
---
---
Reinsman Sharon Camarillo Chain Touch Bit 718
6 1/2 inch cheeks, 5 inch mouth
The limited gag makes the chain less aggressive than the fixed chain mouthpiece. This is an excellent choice for young horses that need additional contact and control as speed is increased. Adjust the headstall to one wrinkle and adjust curb with a two-finger adjustment to aid in lateral control and light feel.
The mouthpiece is made of sweet iron which will naturally rust into a light patina, which creates a sweet taste for the horse and makes the bit more acceptable and increases salivation for a supple mouth.
---
We Also Recommend