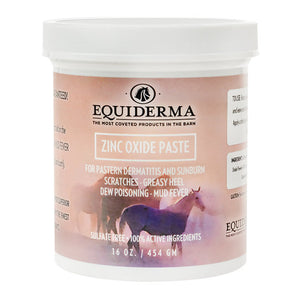 Zinc Oxide Paste for Horses
Free shipping in the USA on orders over $99!
Orders less than $99 pay just $9.95.
Other than Canada, International orders, please email BrreLhorse@aol.com for a shipping quote.
---
---
Equiderma Zinc Oxide Paste contains zinc oxide and chlorhexidine gluconate for a powerful and potent treatment in the fight against pastern dermatitis, also known as scratches, greasy heel, dew poisoning, or mud fever.
Its antibacterial, anti-fungal and anti-dermatophyte properties help horses overcome scratches. Provides 100% sunblock -- an important factor when dealing with pastern problems related to ultra violet light sensitivity. Sulfate free.
For use on scratches, greasy heel, dew poisoning and mud fever. Creates a water-resistant barrier while providing a 100% UV ray protection. Stays in place and creates a healthy environment for healing to take place.
Great for sunburn protection for fair-skinned horses
Sulfate-free; 100% active ingredients
Antibacterial, antifungal and anti-dermatophyte
Contains mineral oil, petrolatum, cetearyl alcohol, ceteareth 20, zinc oxide powder, DI water, glycerine, ColaLipid St, chlorhexidine gluconate, lavender essential oil and trichlromethyl.
Directions: Wash with shampoo. Leave on for 10 minutes, then rinse and dry. Gently remove any loose scabs. Apply a thin layer of paste and leave on. Repeat treatment daily until condition clears and more scabs or inflammation are present.
16 oz container
---
We Also Recommend