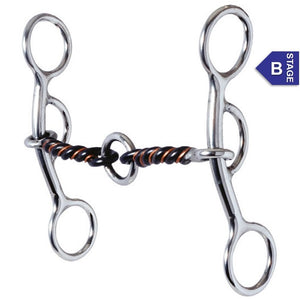 Reinsman Just Enough Lifesaver Snaffle Bit 355
Free shipping in the USA on orders over $99!
Orders less than $99 pay just $9.95.
Other than Canada, International orders, please email BrreLhorse@aol.com for a shipping quote.
Shipping
calculated at checkout.
Due to vacation - I understand all orders placed on Tuesday, November 28th, 2023 thru Wednesday, December 6th, 2023 will ship on Thursday, December 7th, 2023. If this time frame does not work for you, we can refund your order. Send an email to BrreLhorse@aol.com or contact us via the Chat function.
---
---
Reinsman Just Enough Lifesaver Snaffle Bit 355
5 1/2 inch cheeks, 5 inch mouth, 3 piece Sweet & Sour snaffle with Lifesaver
Nice transition bit when moving from the ring snaffle to a curb bit. The limited gag action is softer than moving from the ring snaffle directly into a curb bit with swivel or solid cheeks. The three-piece ergonomically designed mouthpiece results in soft and even pressure across the tongue, bars, and lips. The sweet and sour combination mouthpiece causes increase salivation which leads to a more relaxed jaw and supple mouth.
---
We Also Recommend