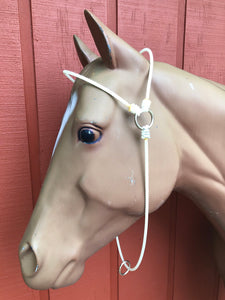 Lariat Rope Bonnet Tie Down aka The Brain Trap
Free shipping in the USA on orders over $99!
Orders less than $99 pay just $9.95.
Other than Canada, International orders, please email BrreLhorse@aol.com for a shipping quote.
---
---
The "Brain Trap" or Bonnet Tie Down
Notice how the ring at the bottom moves freely as the horse turns. This gives extra freedom of movement for turns, but still keeps the head from elevating.
Natural lariat rope material

2 inch rings

Size: 28 inches measuring top to bottom. Browband measures 18.5 inches across

Slides over the horses head and rests on the poll and brow.

Works closely as a tiedown that prevents a horses head from elevating too high, but allows the horse to still extend its nose.
Designed to be used with our Deluxe Leather Tie Down Strap
Bonnets are widely used in the barrel racing and rodeo industry. They are similar to a tiedown in that it keeps a horses head from getting too elevated. The difference though is that a bonnet will allow a horse to extend it's nose. Rather than keep it collected in, as a noseband tiedown would.
---
We Also Recommend