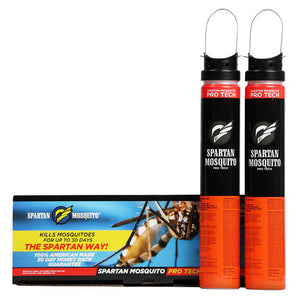 Mosquito Pro Tech Eradicator by Spartan 2 tubes, 4170
Free shipping in the USA on orders over $99!
Orders less than $99 pay just $9.95.
Other than Canada, International orders, please email BrreLhorse@aol.com for a shipping quote.
Shipping
calculated at checkout.
Due to vacation - I understand all orders placed on Tuesday, November 28th, 2023 thru Wednesday, December 6th, 2023 will ship on Thursday, December 7th, 2023. If this time frame does not work for you, we can refund your order. Send an email to BrreLhorse@aol.com or contact us via the Chat function.
---
---
Take back the outdoors with Spartan Mosquito Pro Tech Eradicators! Kills mosquitoes for up to 30 days so you can enjoy the outdoors. 100% American made! Just add warm water and shake thoroughly!
Attractive toxic sugar bait slow release device kills mosquitoes using active ingredient, boric acid. Kills mosquitoes that may carry West Nile Virus, Zika Virus, Dengue Fever, St. Louis encephalitis, Western equine encephalitis and Eastern equine encephalitis. Doesn't require batteries or electricity; just add warm water and shake thoroughly. Contains 1 box (2 tubes) of Spartan Mosquito Pro Tech. Place 4 tubes (2 boxes) per acre on perimeter/property line (more than 4 tubes can be used).
Directions: Remove white cap, add warm water to fill line indicated on back of tube. Re-attach white cap and shake to mix ingredients and activate tube. Remove white cap, attach hook to black cap, then attach to tube. Hang the tubes in the shade approximately 6 ft off the ground at least 80 ft away from where people gather, but not farther than 180 ft apart. If property has woods, heavy vegetation, or a water feature, hang at least one tube in or near that area. Replace every 30 days.
100% American made.
---
We Also Recommend