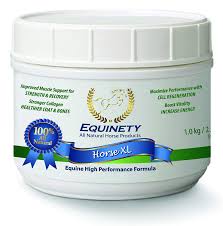 Equinety Horse XL - 600g - 3 month supply
Free shipping in the USA on orders over $99!
Orders less than $99 pay just $9.95.
Other than Canada, International orders, please email BrreLhorse@aol.com for a shipping quote.
Shipping
calculated at checkout.
Due to vacation - I understand all orders placed on Tuesday, November 28th, 2023 thru Wednesday, December 6th, 2023 will ship on Thursday, December 7th, 2023. If this time frame does not work for you, we can refund your order. Send an email to BrreLhorse@aol.com or contact us via the Chat function.
---
---
Equinety Horse XL is 100% pure amino acids and contains NO Fillers, NO Sugars, NO Starches and has NO LOADING DOSE!
What is Equinety: Equinety is a 100% all natural formula specifically designed to enhance the life of your horse. For increasing energy and endurance, strengthening your horse's bones, collagen and muscles to improving your horses natural immune system and vitality.
Equinety Horse XL patented formula customizes itself to your horses needs by adding 1 to 2 scoops mixed with your horses food on a daily basis.
Equinety Horse XL is made up of 8 essential amino acids and contains no filler, artificial flavoring, coloring, preservatives, sucrose, starch, gluten, dairy or yeast and helps your horse at a cellular level. It is also non genetically modified, created out of love and medical science for animals to increase their longevity, performance and quality of life.
Here's what you can expect to see when you begin using Equinety:
Improve muscle support for strength and recovery
Stronger Collagen for healthier coat and bones
Maximize performance with cell regeneration
Calmer & more focused
Less stressed & faster recovery
Typically in a couple days you'll notice a less stressed, less anxiety and more focused horse... going into a couple weeks, you'll definitely notice faster recovery... within 30 days you'll notice a softer, shinier coat and more muscle (you'll also notice significant healing if there's a wound or coming out of surgery) and 4-6 weeks, stronger and faster growing hooves. Equinety is customizing to the body and helping to make a well balanced horse so what you may not see on the outside, it's definitely working on the inside with soft tissue repair etc.
Each tub of Equinety Horse XL provides a 3 month supply of formula for each horse when taken as directed.
Size: 90-100 servings per container
---
We Also Recommend