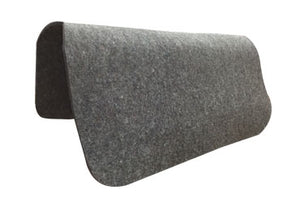 5 Star Saddle Pad Liner - 3 sizes
Free shipping in the USA on orders over $99!
Orders less than $99 pay just $9.95.
Other than Canada, International orders, please email BrreLhorse@aol.com for a shipping quote.
---
---
5 Star felt saddle pad liner - protects the world's finest saddle pad
Thickness: 1/4 inch.
Sizes:
Full cut - 32 inches x 32 inches
Standard cut - 30 inches x 30 inches
Barrel cut - 30 inches x 28 inches
Shape: Square skirt - Can be cut down to fit under your saddle pad
Color: Natural (Heather Grey)
Protect your pad investment with this "disposable" 100% wool F-15 pad liner. We recommend only one pad, but understand the need for investment protection and cleanliness for high use pads. Because the liners are made from wool they bond with the top felt pad and do not slip.
Successful field testing has given these liners rave reviews! Made from 1/4 inch felt, it is designed to be the "dirt catcher", so your pad will stay clean and pristine! The liner can be hosed down to clean, or hand washed. When it is "used up", turn it into a cat/dog blanket or boot mat and get a new one for under your 5 Star saddle pad or contoured saddle blanket.
This is what it looks like when you put it on the first time. The liner is cut square but will quickly conform to the contour of the animals back.
After it has been used, it will fit like a glove as this one does. It can be trimmed with scissors to fit under a custom pad.
---
We Also Recommend