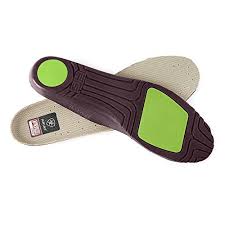 Ariat Womens ATS Pro Replacement Insoles Round Toe
Free shipping in the USA on orders over $99!
Orders less than $99 pay just $9.95.
Other than Canada, International orders, please email BrreLhorse@aol.com for a shipping quote.
---
---
Ariat Women's ATS Pro Footbed Insoles Round Toe
Insole features:
Moisture-wicking footbed provides cool, dry comfort

Gel-Cushioned footbed delivers support

Rebound stability

Gel-cushioned heel pad for shock absorption

Molded orthotic insert provides arch support

Trim for a perfect fit

B Width

Style: 10019855

The ATS Pro Footbed offers incredible underfoot support and fights against foot fatigue while providing the all-day comfort you seek.
Built for boots. Gel-cushioned footbed combines orthotic support that helps protect small bones and nerves against foot fatigue in the stirrup or during heavy duty work.
ATS PRO Technology that provides superior flexibility and cushioning with its shock-absorbing gel forefoot cushion, moisture-wicking lining, and ergonomic composite forked shank that also enhances stability.
These Ariat ATS insoles are great for lasting all day comfort. Your boots will feel brand new again with a new pair of Ariat ATS insoles. The ATS technology supports and cushions your foot as it moves, promoting good posture and reducing fatigue so that you can work or play all day.
Ariat is the world leader in performance equestrian footwear.Their forward thinking and performance lines outfit today's most avid equestrian riders and enthusiasts.
---
We Also Recommend