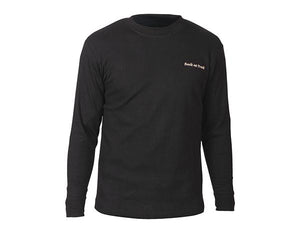 Back on Track Long Sleeve Shirt (unisex), Poly
Free shipping in the USA on orders over $99!
Orders less than $99 pay just $9.95.
Other than Canada, International orders, please email BrreLhorse@aol.com for a shipping quote.
Shipping
calculated at checkout.
Due to vacation - I understand all orders placed on Tuesday, November 28th, 2023 thru Wednesday, December 6th, 2023 will ship on Thursday, December 7th, 2023. If this time frame does not work for you, we can refund your order. Send an email to BrreLhorse@aol.com or contact us via the Chat function.
---
---
Our Back On Track Long Sleeved Shirt provides soothing relief to shoulder, upper back, and arm discomfort.
Using our Welltex material, our Long Sleeved Shirt provides a soothing far infrared effect that can be helpful to injured and sore muscles, joints, and tendons. For injury prevention, this shirt can be worn prior to exercise to loosen and warm up muscles. This shirt can also be worn in the winter for additional warmth.
We provide two versions: the Polypropylene, which is smoother (limited to stock on hand) and the Sold Out Cotton/Polyester blend, which is a ribbed material.
Sold by the each.
Color: Black
Sizes: Small, XLarge
Unisex product size is determined by chest size.
Extra Small 30-34 inches
Small 36-40 inches
Medium 40-44 inches
Large 44-48 inches
XLarge 48-52 inches
XXLarge 54-58 inches
XXXLarge 60-64 inches
---
We Also Recommend