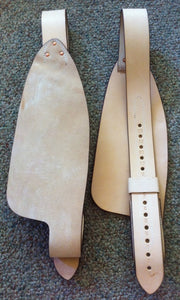 Original Billy Cook Saddle Fenders Leather Roughout
Free shipping in the USA on orders over $99!
Orders less than $99 pay just $9.95.
Other than Canada, International orders, please email BrreLhorse@aol.com for a shipping quote.
---
---
Original Billy Cook replacement saddle fenders. Made in Sulphur, Oklahoma.
Natural, unfinished leather can be dyed or oiled to match your saddle. These will fit most western saddles. Doesn't have to be a Billy Cook saddle.

Fender 17 1/2 inches x 7 1/2 inches, 2 1/2 inch stirrup leathers, 35 inches long, 2 1/2 inch leather covered blevin buckles.

Adult size. Sold by the pair.

Choose from fenders that are stamped with the Billy Cook logo or not stamped with the Billy Cook logo. If you have an original Billy Cook saddle, we recommend the stamped logo fenders. Pictured are the "No Logo" fenders.

Although through the years many have tried to imitate Billy Cook products, THERE IS ONLY ONE GENUINE "BILLY COOK SADDLES" MANUFACTURER.
Running Hard Products is happy to sell the Genuine Billy Cook saddles made in Sulphur, Oklahoma, owned by the late Mr. Billy Cook.
---
We Also Recommend