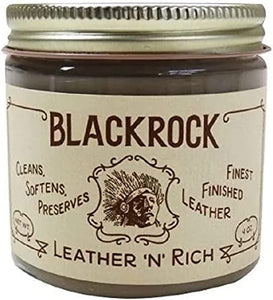 Blackrock Leather N Rich Leather Cleaner Conditioner Preserver
Free shipping in the USA on orders over $99!
Orders less than $99 pay just $9.95.
Other than Canada, International orders, please email BrreLhorse@aol.com for a shipping quote.
Shipping
calculated at checkout.
Due to vacation - I understand all orders placed on Tuesday, November 28th, 2023 thru Wednesday, December 6th, 2023 will ship on Thursday, December 7th, 2023. If this time frame does not work for you, we can refund your order. Send an email to BrreLhorse@aol.com or contact us via the Chat function.
---
---
Blackrock Leather N Rich
A revolutionary idea, Blackrocks unique formulation is colorless to enhance all leather tones, is easy to use and economical.
The Genuine Carnauba wax buffs easily to a shine, cleans and nourishes, beautifies all leathers (not suede, naked leathers, unfinished leather or glazed lambskin).
Go through your tack room and give all that tack the shine and glow that it has been waiting for.
If it's leather, use Blackrock. Excellent for use on exotic leathers.
We use Blackrock Leather n Rich to clean all our used saddles here at Running Hard Products
Size: 4 ounce container will do 2 saddles
Directions: Use Sparingly! Remove excess dirt. Familiarize yourself with Blackrock by first applying to small inconspicious spot. Check for satisfactory results. Using fingertips, apply a very small amount of Blackrock evenly, allowing it to permeate entire article. Take a paper towel and rub entire article, lifting out dirt and excess Blackrock. Buff with a polishing brush and shine cloth for a high luster.
---
We Also Recommend