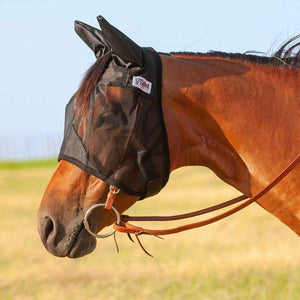 Cashel Quiet Ride Fly Mask with Ears, 1661
Free shipping in the USA on orders over $99!
Orders less than $99 pay just $9.95.
Other than Canada, International orders, please email BrreLhorse@aol.com for a shipping quote.
Shipping
calculated at checkout.
Due to vacation - I understand all orders placed on Tuesday, November 28th, 2023 thru Wednesday, December 6th, 2023 will ship on Thursday, December 7th, 2023. If this time frame does not work for you, we can refund your order. Send an email to BrreLhorse@aol.com or contact us via the Chat function.
---
---
The Cashel Quiet Ride Fly Mask With Ears is the perfect lightweight, fully breathable fly mask for horses for use while out riding.
The Quiet Ride is made with lighter mesh designed to be worn over a bridle. The face is contoured with molded darts to shape to the horse's face and allow space for the bridle. It provides full coverage to prevent flies, gnats, and mosquitoes from entering the eyes and ears while out on the trails or in the ring. Your horse's vision will not be obstructed, as the black mesh is sheer and translucent enabling him to see clearly. No more head shaking or frustration with the flies and pests, this Cashel fly mask will allow you and your horse to focus on the ride.
It is constructed of black mesh with black trim and has a hook-and-loop chin closure. This mask is not intended for turnout use.
Horse size.
---
We Also Recommend