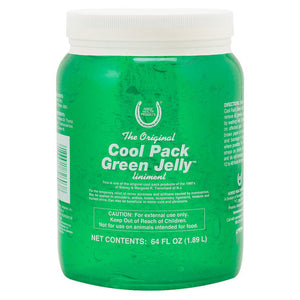 Cool Pack Green Jelly Liniment for Horses 64 oz, 215
Free shipping in the USA on orders over $99!
Orders less than $99 pay just $9.95.
Other than Canada, International orders, please email BrreLhorse@aol.com for a shipping quote.
---
---
Original green cooling jelly provides temporary relief of minor stiffness and soreness due to overexertion.
For use on shoulders, ankles, knees, suspensory ligaments, tendons and bucked shins. Good for sweats, will not blister.
ACTIVE INGREDIENTS: Methyl Salicylate 0.025%,  Benzalkonium Chloride 0.003%.
INACTIVE INGREDIENTS: Witch Hazel, Eucalyptus Oil, Thymol, Isopropyl Alcohol, Triethanolamine, Carbopol, FD&C Green #3.
DIRECTIONS: Before applying Cool Pack Green Jelly liniment, remove all previous medication by washing well. Spread directly on affected part. Cover with brown paper or waxed paper and bandage in usual way, where possible. For other parts smear on thickly twice a day and do not bandage. Leave on 12 to 48 hours for best results.
---
We Also Recommend