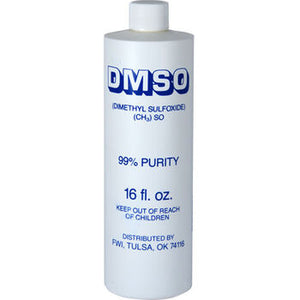 DMSO Liquid Solution for Pets 16 oz
Free shipping in the USA on orders over $99!
Orders less than $99 pay just $9.95.
Other than Canada, International orders, please email BrreLhorse@aol.com for a shipping quote.
---
---
DMSO Liquid Solution for Pets
DMSO, also known as dimethyl sulfoxide is commonly used in equines and some dogs to reduce inflammation and swelling in the joints. It works as an effective pain killer by blocking the nerve conduction fibers that produce pain. DMSO Liquid Solution for Pets stimulates healing of most injuries. It works for pets with injuries and those with pain from osteoarthritis. DMSO is used topically on the skin.
Active ingredient: Dimethyl Sulfoxide 99% pure
Benefits:
Reduces inflammation and swelling
Can be used for osteoarthritis pain
99% Purity
May cause skin irritation. Avoid contact with skin, clothing, and eyes. Wash your hands thoroughly after handling. Not approved for human use.
Store at 70 degrees or above
---
We Also Recommend