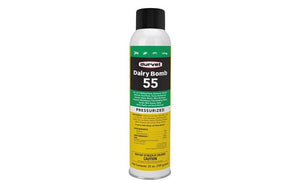 Durvet Dairy Bomb 55 Fly Spray
Free shipping in the USA on orders over $99!
Orders less than $99 pay just $9.95.
Other than Canada, International orders, please email BrreLhorse@aol.com for a shipping quote.
---
---
Durvet Dairy Bomb 55 25 oz
Indicated for use in the control of flying and crawling insects on cattle, horses and swine as well as in beef cattle operations, dairy barns (including milk houses and milk rooms), hog houses, barns, stables, animal quarters and poultry houses. Hangs in the air longer than Durvet Dairy Bomb 55Z.
(Not for Sale in Hawaii)
Benefits:
Pressurized
Kills & Repels - House flies, horn flies, stable flies, horse flies, face flies, deer flies, gnats, mosquitoes, small flying moths (millers), asian lady beetles, roaches, waterbugs, sowbugs, spiders, centipedes, ants, crickets, wasps and hornets.
Usage:
Cattle, horses and swine.
Bottling plants, breweries, homes, bakeries, food plants, stores, restaurants, schools, hotels, motels, office buildings, hospitals, warehouses, food handling plants, dairies, milk houses, cattle, horse, poultry and swine quarters.
---
We Also Recommend