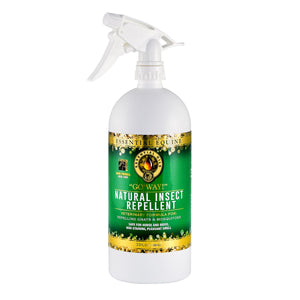 Essential Equine GO'WAY Natural Insect Repellent Spray 32 oz
Free shipping in the USA on orders over $99!
Orders less than $99 pay just $9.95.
Other than Canada, International orders, please email BrreLhorse@aol.com for a shipping quote.
---
---
Tell pesky pests to buzz off with help from Equus Magnificus Essential Equine Go'Way Natural Horse Insect Repellant Spray.
Non-staining, emulsified blend of carefully selected essential oils to repel insects naturally. Uniquely and powerfully effective. Features a pleasant smell from Port Orford cedar, peppermint and citronella oil. Features 360° sprayer; can spray upside down.
Helps to repel insects that can pester and wound your hoofed family member
Spray on—for quick application
Smells pleasant with a mix of carefully selected essential oils, like port orford cedar, peppermint and citronella
Doesn't stain your mare's hair, mane, tail or rider's clothes
Safe for horse and rider
32 oz spray bottle
---
We Also Recommend