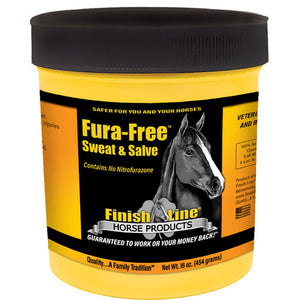 Fura Free Sweat & Salve for Horses 16 oz, 1736
Free shipping in the USA on orders over $99!
Orders less than $99 pay just $9.95.
Other than Canada, International orders, please email BrreLhorse@aol.com for a shipping quote.
---
---
Fura Free Sweat & Salve is excellent care for wounds, burns, abrasions and cracked heels on horses swiftly without the side-effects of nitrofurazone – a cancer-causing agent.
Polyglycol base makes a great sweat for horses' legs. Also helps form a thinner, more flexible scab, less likely to break open and bleed again. Results in less scabbing and proud flesh.
Contains 6 essential oils noted for their germ-killing and healing qualities - tea tree oil, thyme oil, calendula oil, myrrh oil, lemon balm oil and wheat germ oil.
Clean legs with non-medicated cleanser. Apply as sweat or over minor cuts and scrapes.
Product of the USA
---
We Also Recommend