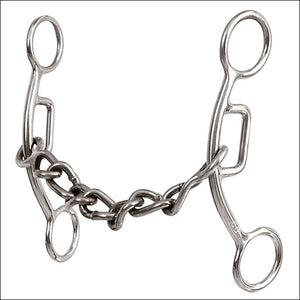 Goostree Delight Bit Large Chain Mouth Bit 30
Free shipping in the USA on orders over $99!
Orders less than $99 pay just $9.95.
Other than Canada, International orders, please email BrreLhorse@aol.com for a shipping quote.
Shipping
calculated at checkout.
Due to vacation - I understand all orders placed on Tuesday, November 28th, 2023 thru Wednesday, December 6th, 2023 will ship on Thursday, December 7th, 2023. If this time frame does not work for you, we can refund your order. Send an email to BrreLhorse@aol.com or contact us via the Chat function.
---
---
Goostree Delight Bit Large Chain Mouth
5 1/2 inch shank, 5 inch large chain mouth
The Delight bit has been around for decades and continues to be a best seller. It is a light bit; but offers quicker contact and a little more control when needed. The Delight is one of the original bits in Carol's line and it is perfect for tuning an older finished horse or for seasoned colts going around the barrels.
Carol Goostree is a true barrel racing legend and has been a trusted name in bits for over 35 years.  Carol is a former World Champion and has provided the western industry with highest quality in bits; original in design and ridden by some of the best barrel racers in the world. Classic Equine is proud to bring you some of the best and most successful designs of Carol's line.
---
We Also Recommend