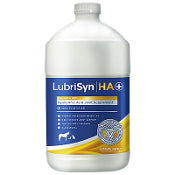 LubriSyn HA Plus MSM Horse & Pet Gallon - SOLD OUT
Free shipping in the USA on orders over $99!
Orders less than $99 pay just $9.95.
Other than Canada, International orders, please email BrreLhorse@aol.com for a shipping quote.
---
---
LubriSyn HA Plus MSM is a liquid supplement with the main component being hyaluronic acid (HA), that maintains joint health, increases mobility and sustains joint stability. MSM works with HA as a natural anti-inflammatory. MSM increases the body's natural antioxidant production.
Lubrisyn is a unique oral supplement of hyaluron, the main component of the fluid that naturally cushions joints, to support healthy joint function and improve mobility. LubriSyn promotes healthy joint function and helps maintain consistent levels of HA in the blood and synovial fluid.
Using Lubrisyn on a daily basis translates into improved performance and quality of life for your horse. When horses train and exercise the synovial fluid in their joints breaks down more quickly. A daily dose of Lubrisyn helps restore the viscosity of that cushioning fluid. As horses age, they suffer the loss of HA levels, increasing the potential for inflammation and arthritis. Lubrisyn sustains the integrity of joint fluid, helping reduce the need for costly and painful HA injections.
HA is a naturally occurring part of the tissues and is a primary constituent of synovial fluid, the viscous substance that lubricates joints in the body and allows two adjacent cartilage caps to glide upon one-another with minimal friction. It is highly bio-compatible and bio-degradable. HA regulates normal cellular constituents, decreasing the degradation of joint integrity. Additionally, HA is the most recent class of anti-inflammatory medication to be used for equine joints.
Highest Molecular Weight HA

Non-invasive Joint Support

Fast Acting (7-10 Days)

All Natural Ingredients

Gluten Free

BPA Free

Made in U.S.A.
You can dose your horse by top-dressing their daily feed, or by squirting LubriSyn directly into their mouths.
Horses like the taste, and LubriSyn is easy to use every day.
One ounce provides 150 mg hyaluronic acid and 300 mg MSM. The hyaluron in LubriSyn is extracted from a non-animal, microbial source, resulting in a high molecular weight purified hyaluron. Fast-acting formula. See results as soon as 7-10 days.
Size: Economical gallon size provides 256 doses at a great price. A gallon will treat one horse for 8 months. Free dosing pump included. The dosing pump delivers the proper DAILY dose with ONE pump. One pump equals 15ml which is equal to 1/2 ounce.
Recommended Daily Dosing:
EQUINE
Daily Maintenance - 15mL (per 1200 lbs | 544kg) Juvenile - 10mL (per 1200 lbs | 544kg) 

CATS - ½ tsp (3mL) 

DOGS
Under 30 lbs (14kg) - 1 tsp (5mL)
30 - 60 lbs (14-27kg) - 1 tsp (5-10mL)
60 - 90 lbs (27-45kg) - 1 tsp (10-15mL)
100+ lbs (14-27kg) - 1 tsp (15+mL)

Dosage should be doubled for initial 10 Days. 

For optimum results, quantities should be doubled in severe cases, with larger breeds, in older animals, and prior to competition. 

Store at room temperature 40-90° F | 4-32° C 
Active Ingredients:
Methyl Sulfonyl Methane
Per tsp (5mL) - 50mg
Per oz (30mL) - 300mg
Sodium Hyaluronate
Per tsp (5mL) - 25mg
Per oz (30mL) - 150mg
Active Ingredients:
Water, Gylcerin, Xanthan Gum, Citric Acid, Potassium Sorbate 
---
We Also Recommend