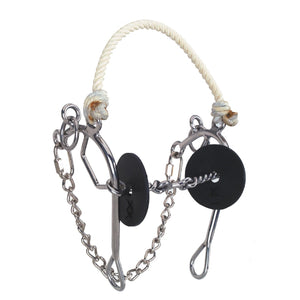 Martha Josey Million Dollar Twisted Dogbone Combination Bit 110
Free shipping in the USA on orders over $99!
Orders less than $99 pay just $9.95.
Other than Canada, International orders, please email BrreLhorse@aol.com for a shipping quote.
---
---
Martha Josey Million Dollar twisted wire dogbone combination bit 110
The Million Dollar bit has won a lot of money for many riders. This bit features a stainless steel 3-piece twisted wire dog bone snaffle mouthpiece and a rope noseband.
Equipped with a 7 inch shank and 5 inch mouth, the Million Dollar bit is ideal because pressure is evenly distributed on the nose, bars, corners of the mouth, curb and poll. This bit is one of our all-time proven favorites at the Josey Ranch.
Use this bit for achieving the all-important flex you need from a well-balanced bit
This gag bit is designed to work with horses in all stages of barrel racing training and competition endorsed by Martha Josey.
Remember: start with the lightest bit possible and progress from there. It's difficult to move backwards.
"These bits have proven themselves, not only in our Josey Clinics, Schools, and Seminars, but also in competitions around the world." Martha Josey
---
We Also Recommend