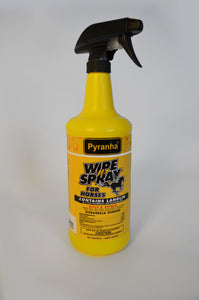 Pyranha Wipe N Spray 32 oz
Free shipping in the USA on orders over $99!
Orders less than $99 pay just $9.95.
Other than Canada, International orders, please email BrreLhorse@aol.com for a shipping quote.
---
---
Pyranha Wipe N' Spray Horse Fly Spray is a ready-to-use product that provides fly protection and leaves a high sheen to the horse's coat when brushed out.
Wipe N' Spray is citronella scented and contains lanolin as a conditioner for the coat. Can be used as a spray or a wipe-on.

KILLS AND REPELS:

stable flies

horse flies

face flies

deer flies

house flies

mosquitoes

gnats

ticks

fleas

chiggers

ants

roaches
Directions for use: This pyrethrin-based formula is applied directly on the animal and effective protection results from only 2 ounces per head. To apply, brush animal to remove dirt and debris, then moisten a soft cloth, but not to the point of dripping, and rub into coat. Pay special attention to areas where flies are often seen.

Pyranha Wipe N' Spray contains 0.1% Pyrethrins.
---
We Also Recommend