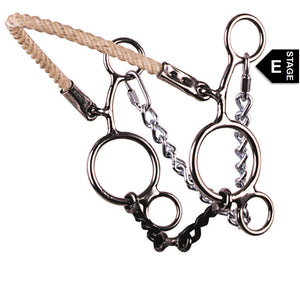 Reinsman Hodges Futurity Bit 945
Free shipping in the USA on orders over $99!
Orders less than $99 pay just $9.95.
Other than Canada, International orders, please email BrreLhorse@aol.com for a shipping quote.
---
---
Reinsman Hodges Futurity bit with 6 inch cheeks and 3/8 inch 3 piece twisted wire dogbone mouth, 945.
Designed with more lift for horses that are getting down in their shoulders. Retains good control. Will also give your horse all the flex he needs to turn. The dog bone mouth adds bite to this bit to better control horses that need more rate.
---
We Also Recommend