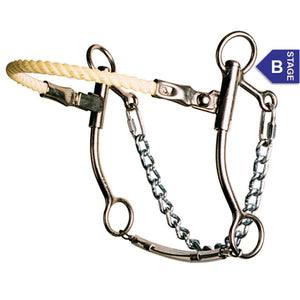 Reinsman Jim Warner Rope Nose Hackamore 935
Free shipping in the USA on orders over $99!
Orders less than $99 pay just $9.95.
Other than Canada, International orders, please email BrreLhorse@aol.com for a shipping quote.
---
---
Back in stock! Jim Warner Hackamore Rope Nose with 7 inch cheeks
Very well designed hackamore. Medium plus leverage for good control and rate. No knots on the rope to gall the horse's face. Notice how well the nose floats when you pull the shanks but will not drop down. Also, the shanks swivel for better flex. It's tempting to call this a shanked sidepull but it has too much control and rate. Rope nose for more control.
This is the short shank Jim Warner hackamore. The long shank has 9 inch cheeks.
---
We Also Recommend