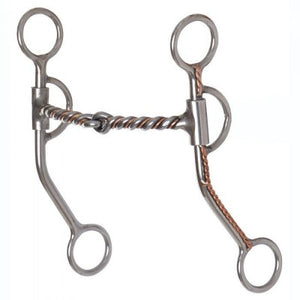 Reinsman Sweet and Sour D & L Twist Bit 784
Free shipping in the USA on orders over $99!
Orders less than $99 pay just $9.95.
Other than Canada, International orders, please email BrreLhorse@aol.com for a shipping quote.
---
---
Reinsman Sweet and Sour D & L twist bit with 7 inch cheeks and a 5 inch mouth.
A new twist on the traditional D & L reiner shank. This bit has great balance. The short purchase coupled with a short shank makes it an excellent medium control bit. The sweet and sour mouthpiece was designed to increase salivation to lead to a more relaxed jaw and a supple mouth.
Copper is a soft metal, check for signs of wear before each use.
---
We Also Recommend