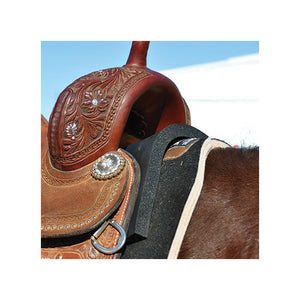 Saddle Shims 3 pack
Free shipping in the USA on orders over $99!
Orders less than $99 pay just $9.95.
Other than Canada, International orders, please email BrreLhorse@aol.com for a shipping quote.
---
---
Not all horses' backs are created equal, which is why the 

Classic Equine Saddle Shims

 

are often used to create a custom fit for a not-quite-perfect saddle. 

Endorsed by Sherry Cervi.

Tapered wedge closed cell foam. Use to fill the small gap or space behind the horse's shoulder and under the front of the saddle. Shims are recommended in order to support, adjust for a better fit, or promote a more level fit. Place shims just under the front of the saddle and on top of the saddle pad as needed.
Tapered Wedge Design Allows for Raising or Lifting of the Saddle 
Closed-Cell Foam Construction Relieves Pressure & Absorbs Shock
Supports & Adjusts Saddle For a More Comfortable Ride
Easy to Trim & Shape the Shims For a Custom Fit & Tailored Look
Sold as a Set of 3
Black - 2 pieces are 5 inches wide, 1 piece is 3 3/4 inches wide. All are approx. 24 inches long.
Durably constructed from closed-cell foam, these shims are designed to sit between the saddle and saddle pad to fill void spaces behind the withers or along the back to improve saddle fit.
Shims are often used to alleviate discomfort and help correct saddle fit issues associated with horses that may have underdeveloped musculature due to inexperience, weight loss, muscle atrophy, or injury.
---
We Also Recommend