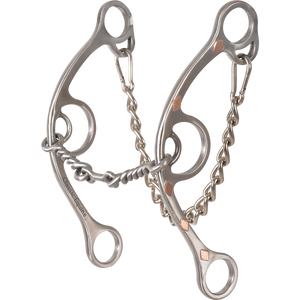 Sherry Cervi Diamond Long Shank Twisted Wire Dogbone Stainless Snaffle Bit
Free shipping in the USA on orders over $99!
Orders less than $99 pay just $9.95.
Other than Canada, International orders, please email BrreLhorse@aol.com for a shipping quote.
---
---
Sherry Cervi diamond long shank bit with 3 piece twisted wire dogbone snaffle mouth. Stainless.
This is a bit with a longer shank, so it will give you more leverage to maintain rate and body position in turns with speed.
This Sherry Cervi long shank twisted wire dogbone snaffle bit (9 inch cheek), is used by Sherry for barrel training or on horses that have a sensitive mouth and need just a little more leverage and quicker reaction time than the Diamond short shank. It is nice and soft, offering complete rate and body lift for turns. The shanks feature a diamond plate and floral border design. Note this mouthpiece is more locked for quicker reaction time.
Shank is 9 inches. Mouth is 5 inches wide.
Complete with black rubber bit guards (not shown).
---
We Also Recommend