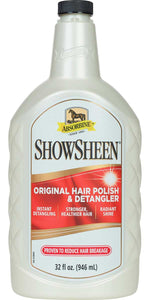 ShowSheen Original Hair Polish & Detangler for Horses 32 oz, 4679
Free shipping in the USA on orders over $99!
Orders less than $99 pay just $9.95.
Other than Canada, International orders, please email BrreLhorse@aol.com for a shipping quote.
---
---
Produces the finest show ring shine on coat, mane and tail that lasts a full week!
Enriched with pro-vitamins and silk proteins to help strengthen and promote longer hair, and help improve and revitalize appearance. Repels dust and dirt and helps prevent stains. Coats each hair shaft to keep manes and tails tangle-free, while conditioning action reduces static fly-aways. Enriched with pro-vitamins and silk proteins to nourish coat and strengthen manes and tails. Dirt and mud fall off to save hours of grooming time. Dries quickly.
Calming jasmine and soothing sandalwood scent. Ideal for horses, cattle, dogs, llamas, pigs, goats, sheep, alpacas and camels. Do not use on saddle area of horse.
---
We Also Recommend