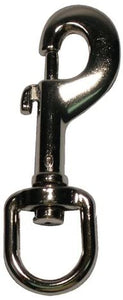 Swivel Snap Chrome 3/4 inch Oval End 4676
Free shipping in the USA on orders over $99!
Orders less than $99 pay just $9.95.
Other than Canada, International orders, please email BrreLhorse@aol.com for a shipping quote.
---
---
Chrome oval swivel snap in a 3/4 inch size
Great for use on the end of reins. Overall length is 3 inches. Oval swivel is 3/4 inch wide inside diameter.
Note: This snap can be used on the ends of our Martha Josey Super Knot Reins, but our brass scissor snaps or nickle scissor snaps work much better.
---
We Also Recommend