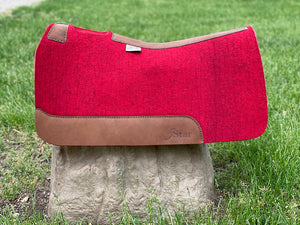 5 Star Saddle Pad Red 7/8 inch Dark Brown wear leathers 30x28
Free shipping in the USA on orders over $99!
Orders less than $99 pay just $9.95.
Other than Canada, International orders, please email BrreLhorse@aol.com for a shipping quote.
---
---
5 Star Saddle Pad - 7/8 inch thick, red with regular length dark brown wear leathers
Thickness: 7/8 inch - The best all-around use saddle pad recommended for trail riding, team penning, cutting, reining, and barrel racing.
Size: Barrel style 30 inch width x 28 inch length
Shape: Square skirt
Cleaning sponge included.
The world's finest, all natural 100% wool contoured saddle pad, specially designed to fit the shape of your horse or mule's back. Unique, two piece construction eliminates spinal pressure and improves saddle fit---no over cinching.
5-Star's Contoured Pad is the ORIGINAL Western contour saddle pad with a true French Curve backline and withers slope. Special attention is given to wither height, backline variance and hip placement which results in a GREAT FITTING SADDLE PAD that CONFORMS to the shape of your horse or mule. This conscious effort in design has produced a pad that fits most breeds of horses and mules without "break-in" fitting.
Top quality, pressed, high density 100% WOOL FELT is the base pad component, with 5-6 oz. wear leathers on the sides and top line. This wool felt is manufactured to strict specifications, using the highest quality virgin wool (90%), blended with recombed wool (10%) which allows for the highest degree of protection and economic benefit.
Features:
Contoured, conformed fit
20% less cinching needed
All natural, 100% wool felt with 40% MORE virgin wool than ANY other 100% wool pad
3x more compression protection than synthetic neoprene pads
Even weight distribution and impact absorption
4x greater wicking ability
Eliminates heat build-up
2000+ hours of maximum riding protection
Soft and durable, easy clean-up
90% virgin wool
---
We Also Recommend