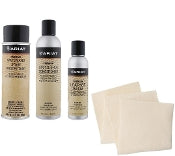 Ariat Leather Boot Care Kit
Free shipping in the USA on orders over $99!
Orders less than $99 pay just $9.95.
Other than Canada, International orders, please email BrreLhorse@aol.com for a shipping quote.
---
---
Ariat Leather Boot Care Kit has the essentials for keeping your leather looking good.
Kit features:
8 oz. Ariat wax free boot & shoe conditioner - cleans, polishes, protects & conditions

4 oz. Ariat premium leather balm - cleans, polishes, preserves

5.5 oz. Ariat premium water & stain protectant - protects, conditions and provides a water repellent finish for leather and suede

Boot shine cloth
Comes in a handy clear plastic carry case. 7.5 inches tall x 6.5 inches wide.
Simply begin by removing the dirt off your leather with water then apply the leather balm to moisten the leather. This helps prevent cracking. Next use the boot & shoe conditioner to clean and polish. Then finish the process by spraying the leather with the protectant spray. This will help seal the leather without drying it out. Cleaning, conditioning, and protecting can double the life of your leather - protect your investment!
An important part of keeping a well-groomed image is keeping your boots clean. People make a decision on how they perceive you within minutes, just long enough to give you a thorough once-over from head to toe. If your upper half is the picture of perfection, but your boots are a dry, dull and dusty mess, chances are you'll be seen as someone who doesn't take much pride in appearance or as a person who is too lazy to pay attention to detail. 
Ariat Leather Balm is recommended for all smooth and grained leather goods including boots, belts, handbags and luggage. Do not use on nubuck or suede. Contains mineral spirits.
Ariat Boot & Shoe Conditioner is formulated as a special wax free formula to be used on all types of leather - grained, gloved and smooth. Leathers, patents, imitation leather and plastic surfaces may be cleaned with this wax free product. It may be used on all types of reptile skins including alligator, lizard and snake. Excellent for two toned shoes. It should not be used on suede or napped leather.
Ariat Water & Stain Protectant is specifically for use on leather and suede. Provides protection from water based and oil based stains. Will keep your boots water repellent and stain resistant. Can safely be used on all colorfast leather fabrics. 
Tips and warnings:
If you wear your boots regularly, polish at least once a month.

Keep boot polish away from small children and curious pets.

Never use black polish when polishing brown boots.
---
We Also Recommend