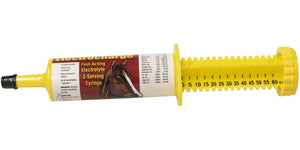 Finish Line Electrocharge Horse Electrolytes
Free shipping in the USA on orders over $99!
Orders less than $99 pay just $9.95.
Other than Canada, International orders, please email BrreLhorse@aol.com for a shipping quote.
Shipping
calculated at checkout.
Due to vacation - I understand all orders placed on Tuesday, November 28th, 2023 thru Wednesday, December 6th, 2023 will ship on Thursday, December 7th, 2023. If this time frame does not work for you, we can refund your order. Send an email to BrreLhorse@aol.com or contact us via the Chat function.
---
---
Fast Acting Electrolyte for Horses - RAPID ABSORPTION - STARTS IN 2 MINUTES!
The maximum level of electrolytes available in a rapid absorption paste. 60 cc syringe which is 2 doses per syringe. Give one dose 24 hours prior to strenuous exercise with plenty of fresh water and one dose 24 hours after strenuous exercise, again with plenty of fresh water.
Help your horse recover from those big events faster and better and get your horse back to drinking fast! Formulated for rapid absorption (starts in two minutes), Electrocharge replaces electrolytes in the same proportion as your horse loses in sweat. Electrolyte salts and minerals are important for healthy hydration, muscle function and the nervous system. This 2-dose syringe is ideal for racing, barrel racers, endurance, three-day eventing and other heavy training disciplines.
ELECTROCHARGE has the following benefits for your horse:
Electrocharge

 

is a rapid absorption oral paste blend of electrolytes and trace mineral salts that help promote healthy hydration in your horse. All of this in a convenient 2-dose syringe
Electrocharge

 

replaces electrolytes in the same proportion as the horse loses in sweat
For Equine Use Only
Store at room temperature
Keep out of reach of children
Do not exceed feeding instructions.
Indications: Use before and after competition & worming.
INGREDIENTS: Corn Syrup, Water, Sodium Chloride, Sodium Sulfate, Honey, Potassium Chloride, Magnesium Sulfate, Calcium Carbonate, Xanthan Gum, Calcium Lactate, Artificial Honey Flavor, Sodium Benzoate (preservative), Manganese Sulfate, Zinc Sulfate, Ferrous Sulfate, Cobalt Sulfate, Copper Sulfate.
GUARANTEED ANALYSIS:
| | | |
| --- | --- | --- |
|   |   | per 1.0 fl. oz. |
| Calcium, min: | 0.22% | 101 mg |
| Calcium, max: | 0.24% | 110 mg |
| Salt, min: | 26.1% | 12,060 mg |
| Salt, max: | 27.7% | 12,800 mg |
| Sodium, min: | 10.3% | 4760 mg |
| Sodium, max: | 10.9% | 5040 mg |
| Potassium, min: | 2.9% | 1340 mg |
| Magnesium, min: | 0.12% | 55 mg |
| Manganese, min: | 0.012% | 5.5 mg |
| Zinc, min: | 23.4ppm | 1076 mcg |
| Iron, min: | 9.0ppm | 410 mcg |
| Copper, min: | 6.15ppm | 282 mcg |
| Cobalt, min: | 0.10ppm | 4.6 mcg |
---
We Also Recommend